Sari Nusa Penida Tour will be very happy if you could help us to improve our service by give us some comment, Our aim is to make your holiday memorable one and is a great pleasure to see tourist come to Nusa Penida Island and enjoy their holiday. Our customers originate from altogether different strolls of life and age bunches. We're enchanted that numerous return to go on our escorted verifiable visits and little gathering visit over and over. We feel that their testimonials portray who we are and what we show improvement over we ever could.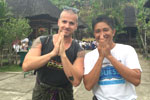 Nice to met you Nyoman, our best tour driver and guide that we can share our experience in Nusa Penida Island. We're enjoyed a lot of our trip and you help us so much to do. Thanks again and sure you're our choice for the next time.
Albert Pons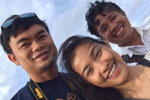 Thank you so much for the tour package you arranged for me and my group with reasonable price only IDR 450,000. We enjoyed it so much. Thank you also for assigning NyoMan as our driver and guide.
He's very accommodating, very friendly, very kind and very thoughful. He's the life of our entire trip. He make so enjoyable and very memorable. Thank you once again. We hope we can visit bali again and hopefully to finally meet you.
Best regards,
Frances Cadenas